A Message from Superintendent Dr. Monifa B. McKnight:
Athletic Safety Plan
September 28, 2022
Dear Montgomery County Public Schools community members:
I am writing to follow up on the actions we announced last week to promote safety and a positive environment at our athletic events. When we announced these measures, we understood it would take the entire community coming together on behalf of our schools and athletics programs to keep them safe and positive.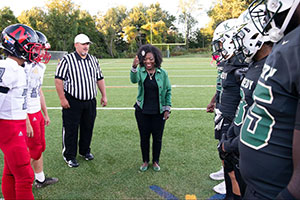 This past Friday, I saw some good-spirited, high-energy games, where student-athletes competed at a high level and spectators enjoyed watching them. This positive outcome did not happen by accident. Our students called on their peers to uphold good sportsmanship and a respectful environment; staff, parents and volunteers modeled positive behavior and everyone enjoyed a safe and exciting series of athletic events, which are an important part of our school cultures.
To achieve that outcome, the most significant changes that we implemented last week included:
Enhancing and elevating existing game management protocols by separating spectators, having students and spectators sit in stands, denying re-entry into games, gaining better control of the sidelines and better managing crowds.

Ensuring that elementary and middle school students, as well as high school students not enrolled in the two participating schools, are accompanied by adult chaperones

Verifying student identification prior to the game

Equipping Montgomery County Public Schools (MCPS) security with an enhanced plan for football games, including collaboration with police and community partners.

Empowering the student voice, including through a public service announcement that will be distributed later this week for display on the morning announcements.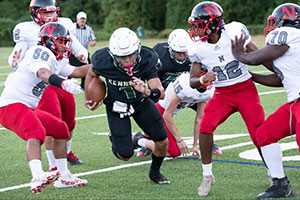 We believe that these policies target the areas that we most needed to address. We have heard some concern from students and parents about students' inability to attend games in which their school is not participating without an adult chaperone. While we understand that students may take an interest in other schools, it is important to underscore that the policies are in place so that we have a relationship with the students who are at our events. Relationships are the most important tool we have to anticipate and respond to any incidents. We will continue to monitor and assess our program and events, consistent with the decision guidelines outlined in the Athletics Safety Plan. Other local and national districts are implementing similar plans and we are leading the way in demonstrating best practices to ensure safety.
For more information, please refer to the latest R.A.I.S.E. Report, the seasonal newsletter for MCPS Athletics.
Thank you for your ongoing support.
Sincerely,
Monifa B. McKnight
Superintendent of Schools