All Together Now: Putting Our Students First - A Message from Interim Superintendent Dr. Monifa B. McKnight
All Together Now: Putting Our Students First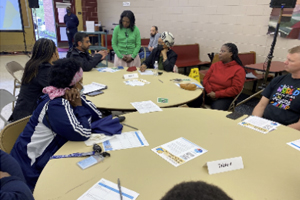 Dear MCPS Families,
I am so pleased to have had the opportunity to hear from many of you during several recent community and MCPS staff engagement events. People from all over the county shared their thoughts about our strengths and challenges, as well as the opportunities that lie before our school system. We had students, staff, parents and community members; more than 360 attended the first community event and I am so pleased that students made time to come and share their experiences in our schools. Your participation truly supports my belief in a culture of engagement, and I look forward to many more opportunities in the future.
One of my top three priorities is rebuilding community trust in MCPS. Relationship building is a two-way endeavor, and these events mark an important step towards upholding our commitment to a strong, trusting relationship, as we collectively work on behalf of the awesome students we are honored to serve. MCPS can be of better service to you if we know each other–if we know and understand the issues of greatest importance to our community. I am committed to transparency and responsiveness as we work to address our challenges and celebrate our many strengths. I am all in for our students, their families and our MCPS staff; I am excited about the conversations we've had and those that we have in the future.
What You Told Me
We captured your feedback during our recent engagement sessions and you can see it reflected in this document. Your feedback covers a variety of interests, and each item will be examined to identify areas where we can make important improvements or adjustments that will serve students and staff. We spoke with one another about mental health, school safety, staffing concerns, operating budgets, special education student services and so much more. While community feedback is part of my commitment to informing our work, we have to ensure that any resulting action or decision fully supports students, staff and excellence in MCPS. Students First is my commitment to every family across the district.
What We Are Doing
I was heartened to see a lot of the priorities I heard about during the engagement sessions are already underway. We are making essential changes to support both the Board of Education's strategic priorities and my aligned priorities. I have made changes to the leadership structure and various positions in MCPS that will serve the direct needs of schools and students. For example:
We have hired Mr. Brian Stockton as Chief of Staff, who will assist me with leveraging the work of the system's leadership and liaising with the Board of Education and external stakeholders.
We have hired Ms. Elba Garcia as Senior Community Advisor, who will maintain and coordinate with partners, stakeholders and community leaders.
We look forward to enhanced, proactive, thoughtful and effective communications with the addition of Ms. Celia Fischer as Assistant Chief of Communications.
We will hire a Special Education Liaison, who will engage with families of students with disabilities to better understand the students' needs and how we can be more responsive to them.
We will have a new Deputy Superintendent, Chief Academic Officer and Chief Operations Officer, all of whom will maximize support to schools and the engagement of students, staff and all of our partnerships.
Our focus is tangible in other ways, too:
We are enhancing professional development for our staff around safety and security this summer.
We are providing a robust summer learning program at all levels.
We plan to continue and improve our Virtual Academy.
We will establish more mental health and wellness resources, such as expanding the Our Minds Matter program to more schools and identifying a vendor to provide telehealth services for students next school year.
We will continue to build on and enhance partnerships with vital educational and business partners in the community to provide students with robust opportunities now and in their future.
What Is Next
I commit to taking part in ongoing opportunities for a robust exchange of ideas and soliciting feedback from you over the coming months. An immediate opportunity is this end-of-year survey; which will be open until July 15. We want to drill down deeper on what we heard in our recent engagement sessions to allow you to indicate your priorities. Please take the survey, whether you took part in the recent engagement opportunities or were unable to join one, all voices count. You can learn more about the survey in the video below.
Montgomery County is fortunate to have a community focused on ensuring its public schools are of the highest quality, and I am proud to be a partner in this work with you.
Sincerely,
Monifa B. McKnight, Ed.D.
Interim Superintendent of Schools