Antiracist Audit To Examine and Address Institutional Racism in Montgomery County Public Schools (MCPS)
February 2, 2022
Dear MCPS Community,
We are writing to provide an update on our district's ongoing work and commitment to address racial barriers in MCPS.
The truth is, talking about race is hard. School districts around the country have been struggling to engage in these conversations as community members pick sides and point fingers. Yet, we cannot avoid talking about race in MCPS because our data, recent experiences, and the disparities of how COVID-19 affected the community won't allow us.
With this need in mind, last year we began a review of our district policies and practices called the Antiracist System Audit. Over the past few months, we have met with students, families, staff, and community members to get input on the audit and to hear concerns and questions. Some of you said that the audit goes beyond the scope of what a school district should be doing. Others told us that we are not going far enough. Gaining trust will take time, so we want to explain what we believe the audit is and is not.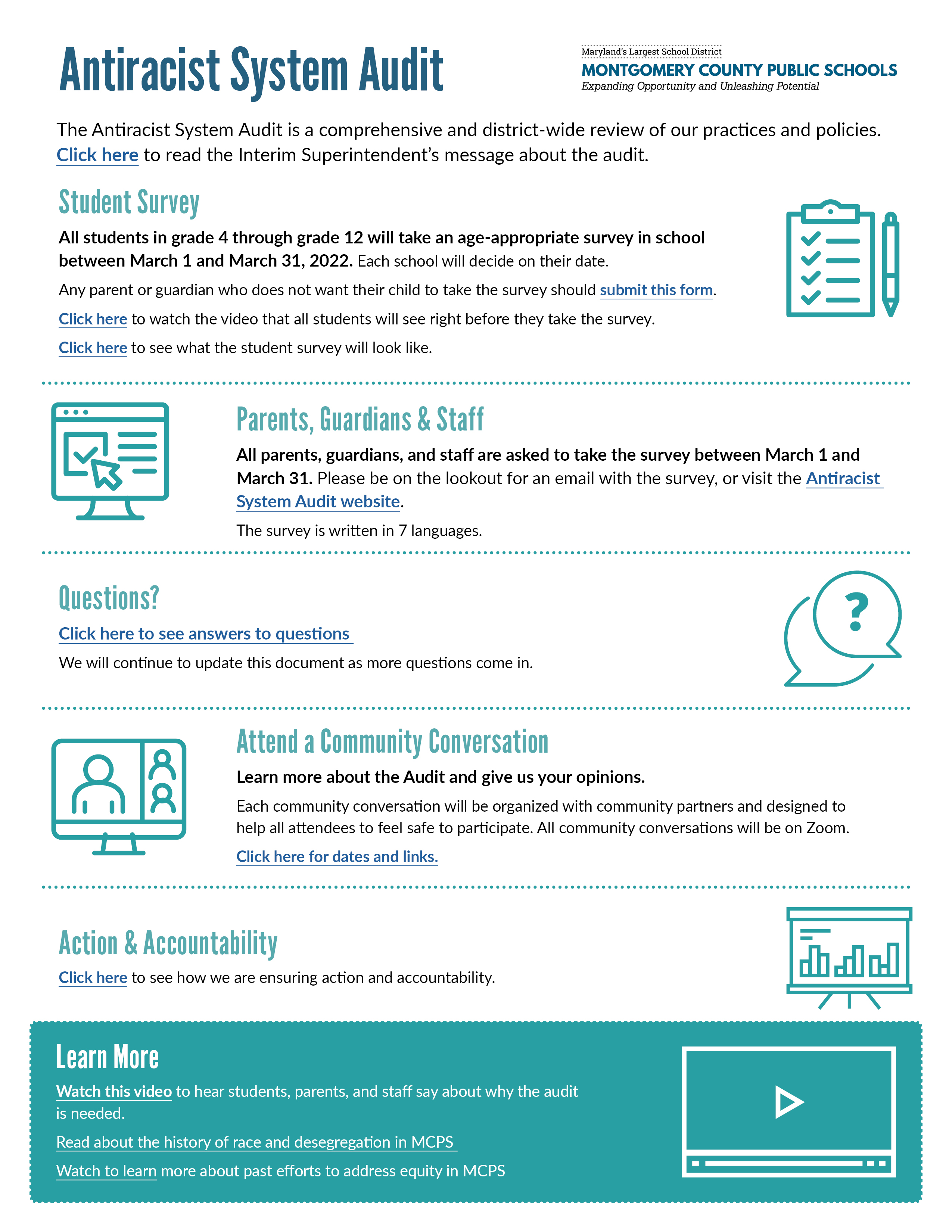 Click to View Full PDF
The audit IS a comprehensive and district-wide review of our practices and policies. Click here to read about the different areas of the audit.
The audit IS about fact-finding. Action will be determined based on the results of the audit.
The audit IS NOT about pointing fingers. We will not condone the blaming or shaming of anyone, or any group, for the actions of others.
The next phase of the audit is to hear from all our stakeholders through surveys and focus groups. Please see the graphic to the right for information about student, staff, and family surveys as well as upcoming community conversations. Please be on the lookout for additional communication with more details. Findings from the audit will be shared with the entire community by June 2022 and all MCPS schools and offices will create action plans this summer. Action updates will be publicized on this webpage.
It is not lost on us that we write this letter from the MCPS' headquarters in the Carver Educational Services Center building. This historical place used to be the school where every Black high school student from across Montgomery County needed to attend regardless of where they lived. This fact reminds us that racism was built into our core structures. However, we are sitting in this building as leaders of a district that is now one of the most diverse and successful in the country. We are hopeful that we can use this audit to re-envision a school district where all students, families, and staff feel safe, valued, seen, heard, and successful.
Sincerely,
Dr. Monifa B. McKnight
Interim Superintendent
Montgomery County Public Schools