May 10, 2022
Dear MCPS Community:
I am delighted to report that we have reached an agreement with our three employee associations that offers substantial wage increases to our devoted and highly skilled teachers, supporting services professionals, administrators and other staff for the upcoming school year. In the face of significant challenges over the past couple of years, MCPS remains a great school system, in large part thanks to dedicated staff whose excellence we recognize and reward. The new contracts are one way we can celebrate all staff for their steadfast dedication in providing an excellent education for every student. Through the collaborative partnership with our employee associations—MCEA, MCAAP, SEIU—that led to their development, these agreements help MCPS remain one of the best places for adults to work and children to learn in all of public education.
Through resolve, flexibility and agility, MCPS staff members have been heroes in our community during unprecedented and challenging times. Over the last year, our staff has operated on virtual and hybrid platforms before returning full-time to the classroom this school year. These new employee agreements recognize these efforts, and it is a privilege to provide our employees with the compensation and conditions that acknowledge their significant achievements. It is my hope that these new agreements represent one more way we are working to recognize, reward and retain our educators and staff, while providing much deserved further incentive to continue to serve our community.
These agreements maintain MCPS' status as a premier destination for all employees. The new agreements include a 3.35% cost-of-living increase and a salary step increase, which combine to equal, effectively, an over 6% increase in the salaries of our employees. This is the highest increase, reached in the shortest amount of time, in more than a decade. Also included in the agreements is a commitment to professional development to support the desire of our teachers to perform at their best, enhancements that are directed toward administrators who have committed the greatest number of years of service to our students and community, and a renewed focus on employee well-being. All of this combines to serve as further proof of the high value we place on our employees and their contributions to our schools.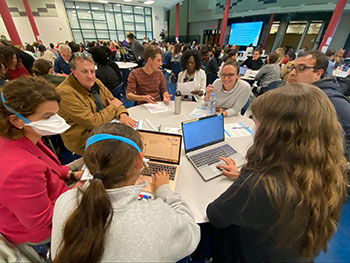 These investments will go a long way in attracting recent college graduates, seasoned educators and career changers to join our MCPS family and encourage them to stay with us as we continue to serve our students.
The work our employees do each and every day inspires us to pursue the work we will do together in the future, including on the priorities we have been discussing with our community in recent weeks:
Building and rebuilding trust and engaging stakeholders;
Supporting mental health and wellness for staff and students; and
Refocusing on equitable teaching and learning across the district.
Recognizing, rewarding and investing in our employees is an investment in the future success of all students.
The three employee agreements go into effect on July 1. They demonstrate that MCPS continues to do its part to uphold Montgomery County's broader commitment to public employees and keeps the district ahead of many employers throughout the state of Maryland and the nation.
If you want to be a part of our great team, apply here!
Sincerely,
Monifa McKnight, Ed.D.
Interim Superintendent of Schools